Tempeh Sampler Pack of 5
Sampler Pack of 5:
Sampler
A versatile Tempeh Sampler Pack containing 
Soybean Tempeh
Peri-Peri Tempeh
Hot and Sweet Tempeh
Smoky Barbeque Tempeh
Tandoori Tempeh
This pack will have something perfect and something favourite for everyone and every meal. 
(Currently available in Mumbai) 

🌱 Gut Friendly
🌱 Fermented 
🌱 Organic and Non-GMO Soybean
🌱 38g of pure plant protein
🌱 Complete amino acid profile 
🌱 Adapts to all cuisines 
🌱 Authentically Indonesian
Clean without compromise
Ingredients
Know the product
✓ PREBIOTIC FIBER RICH - Unlike Tofu, Tempeh retains all of its fiber making it wholesome for gut health

✓ BIOAVAILABLE NUTRIENTS – Anti nutrients like phyates that interfere in the absorption of nutrients are broken down. The are made available for the body to absorb (which is not the case with a lot of lentils, pulses and nuts). All thanks to the magic of fermentation

✓ COMPLETE PROTEIN – 1 Tempeh but all 9 essential amino acids. No FOMOs here.

✓ NUTRITION POWERHOUSE - With 19g vegan protein/ 100g Tempeh, it's the richest source of vegan protein available

✓ PROTEIN WITHOUT COMPROMISE – No compromise in taste, texture or flavour. No compromise in Amino Acids and No compromise in quality manufacturing!

✓ TEMPEH IN INDIA - 100% Natural, Gluten-free, Plant-based protein with zero preservatives, Made with love in India.
Super Versatile Tempeh
The possibilities are only limited by your imagination.
What are you making with Tempeh today?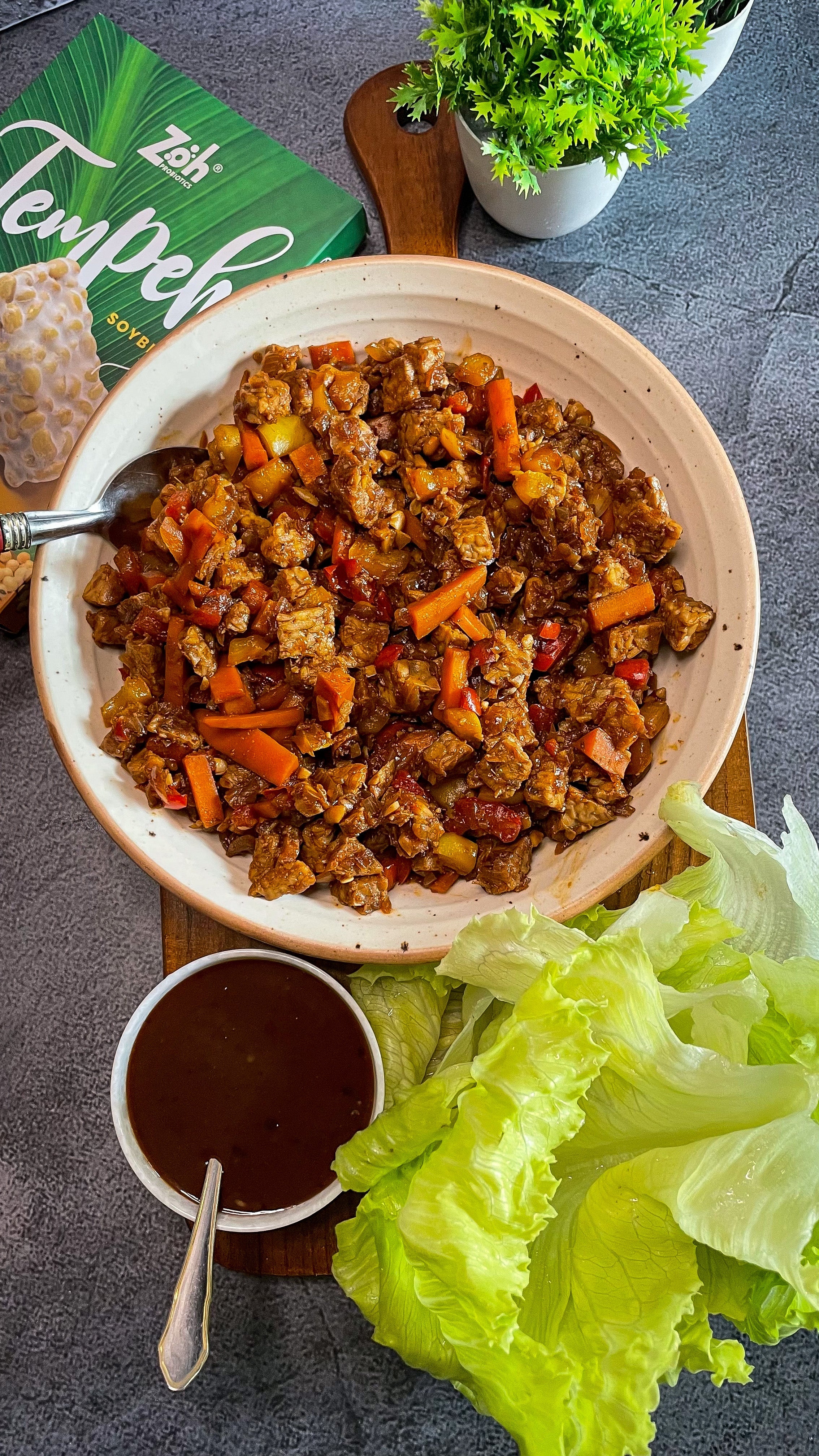 SCHEZWAN TEMPEH IN LETTUCE CUPS
WE BRING TO YOU TEMPEH IN A DESI CHINESE STYLE WITH THIS RECIPE THAT IS SURE TO BE A LEEWAY TO SKIP ORDERING-IN AS THAT IS HOW EASY IT IS TO MAKE.

For tempeh
200gm tempeh
1 tbsp oil
5-6 cloves of finely chopped garlic
1 medium onion
1 carrot
½ a red bell pepper
½ yellow bell pepper
2 tbsp soy sauce
1 ½ tbsp schezwan sauce
½ tbsp brown sugar
Lettuce leaves
For peanut sauce
4 tbsp peanut butter
2 ½ tbsp soy sauce
1 tbsp hot sauce/ schezwan sauce
2 tsp brown sugar/ agave
1 tbsp apple cider vinegar
1 tbsp sesame oil
1. Sauté 5-6 chopped garlic, 1 medium sized chopped onion, 1 julienne cut carrot in 1 tbsp oil, till they turn slightly softer
2. Add ½ a yellow bell pepper, ½ a bell red pepper and 200 gm tempeh diced into bite sized pieces
3. Add 2 tbsp soy sauce, 1 ½ tbsp schezwan sauce, 1 tbsp brown sugar, salt to taste if needed. Close the lid and let the mix cook for 8-10 mins
4. For peanut sauce, add 4 tbsp peanut butter, 2 ½ tbsp soy sauce, 1 tbsp hot sauce/ schezwan sauce, 2 tsp of brown sugar, 1 tbsp apple cider vinegar, 1 tbsp sesame oil and 2-3 tbsp water. Mix well.
5. Add the schezwan tempeh into lettuce leaves and devour the goodness.
Cooking with Tempeh is a lot of fun! Check out these recipes to inspire the chef in you!
Similar Recipes